If you have been reading this for any length of time, you know that this house (Brandywine) has problems.
This is NOT Brandywine. This is a much better house. One that hasn't been idiotically 'updated' by idiots. This IS, however, the color of our doors.

I can assure you that Brandywine has been an incredibly expensive undertaking. Add to that the fact that we bought when the real estate market was grossly overinflated. Which basically means we are sitting in what amounts to a mound of gold-plated dooky.
Be that as it may, I love y'alls kitchens. I pin kitchens. I pin the heck outta kitchens. I pin so many kitchens, kitchens should feel like the most popular (read "loose") girl in the sorority. Without the grain alcohol.
I pinned this for the sink and the glass-front cabinets.
I pinned this for the vintage elements.
I pinned this for the big honkin' windows.
I pinned this for the earthy elements.
I pinned this for how light it feels.
I pinned this for the ceiling.
And DEFINITELY this one
,
even though it feels sorta naked. Put some tchotchkes in there, Jessica!
You know what these kitchens do? They make me hate my kitchen even more. They make me want to grab my kitchen around the neck, jack it up against the lockers, and shake the heck outta it. I want to hurt my kitchen. I want to hurt my kitchen BAD.
I know what you're thinking. I know you're thinking "Gee, Kirby...why don't you be a good little do-it-yourselfer and fix that kitchen up. After all, you've remodeled FOUR kitchens already. How hard can one more be?"
Well, here's the answer. The fact is that our other homes have been basic suburban tract homes. Going in and ripping out an old kitchen to put in a new kitchen didn't require the research and thought and planning...a new kitchen in a tract house just requires some cherry or oak stock cabinets, some new appliances and a new travertine or granite countertop. But Brandywine? Brandywine is not that easy.
It
takes a lot of pinning.
Until I figure out a way to love my kitchen, I'm pretending my kitchen looks like this: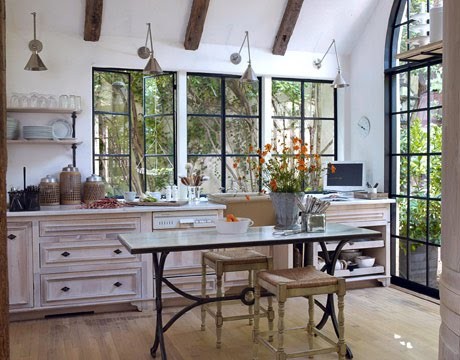 Eclectic Other design
Which would take about seventy-bazillion dollars and an act of god, but a gal can dream, can't she?